About the Journal
PSP Photonics Letters of Poland (ISSN 2080-2242) is a new peer-reviewed web-based, open-access journal published by the Photonics Society of Poland and co-sponsored by SPIE. Journal is also supported by the Ministry of Science and Higher Education of Poland in the frame of the project 699/P-DUN/2017.
Current Issue
Vol. 14 No. 4 (2022)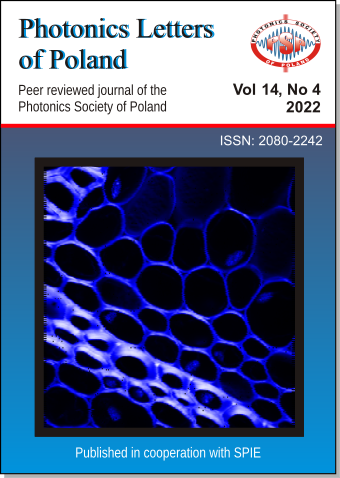 Different aspects of optics and photonics, like, a mathematical model to determine the spectral power distribution of an LED luminaire for any level of dimming; a polymer tapered pillar on the SMF facet fabricated by a self-written waveguide technology using a high-numerical-aperture fiber; development of an algorithm suitable for real-time processing of matrix sensor data in laser beam positioning applications; a multiphoton scanning laser microscope based on a femtosecond frequency-doubled erbium-doped fiber laser; a new design of an amplifier for the miniature MEMS-type spectrometer, are described explicitly in the current issue of the Photonics Letters of Poland.
View All Issues
The Photonics Letters of Poland is indexed in major scientific databases, including Scopus and Web of Science Emerging Sources Citation Index.
The journal covers the topical areas of optics, optoelectronics and photonics in the following aspects: fundamental and applied research, physics and technical, materials, components and devices, circuits and systems, technological and design, construction and manufacturing, and metrology.
Photonics Society of Poland encourages the prospective Authors to publish the results of their research and technical work in the new, peer-reviewed, rapid Internet journal Photonics Letters of Poland.
The Advisory Board of the Photonics Letters of Poland is composed of Polish researchers active in optics and photonics, whereas the International Advisory Board groups prominent international experts and scientists in the field.
Members of the International Advisory Board:
Gaetano Assanto, University of Rome "Roma Tre", Italy
Wojtek Bock, Université du Québec en Outaouais, Canada
Román Castañeda, Universidad Nacional de Colombia Medellin, Colombia
Brian Culshaw, University of Strathclyde, United Kingdom

Vladimir G. Chigrinov, Hong Kong University of Science and Technology, Hong Kong
Gerald Farrell, Dublin Institute of Technology, Ireland
Ari T. Friberg, Royal Institute of Technology, Sweden

Wiesław Królikowski, Australian National University, Canberra, Australia
Kristiaan Neyts, Ghent University, Belgium

Peter Palffy-Muhoray, Kent State University, USA
Philip St. John Russell, Max Planck Research Group, Germany

Giancarlo Righini, National Research Council, Roma, Italy
Bouchta Sahraoui, Université d'Angers, France
Ping Shum, Southern University of Science and Technology, China
Hugo Thienpont, Vrije University Brussel, Belgium
Tomasz R. Woliński, Warsaw University of Technology, Poland
Shin-Tson Wu, University of Central Florida, USA
Maria J. Yzuel, Autonomous University of Barcelona, Spain

Southern University of Science and Technology (SUSTech)