A low temperature operated NO2 gas POF sensor based on conducting graft polymer
Abstract
It has developed a simple POF sensor that is used to detection and measure concentration of nitrogen dioxide, at low temperatures (about 50°C). In this work, we present thermal profiling process of sensor head type POF, and application of sensing structure based on grafted polymer preparation by dip-coating technique. Were performed characterization prepared structures and tests with various concentration NO2 at low temperature and dry atmosphere.

Full Text: PDF

References
E. Maciak, Z. Opilski, M. Urbanczyk, "Pd/V2O5 fiber optic hydrogen gas sensor", J. de Physique IV 129, 137 (2005). CrossRef
T. Pustelny, M. Procek, E. Maciak, A. Stolarczyk, S. Drewniak, M. Urbanczyk, M. Setkiewicz, K. Gut, Z. Opilski, "Gas sensors based on nanostructures of semiconductors ZnO and TiO2", Bulletin of the Polish Academy of Sciences: Technical Sciences, 60(4), 853 (2012). CrossRef
G. Mauthner, K. Landfester, A. Köck, H. Brückl, M. Kast, C. Stepper, E. J. W. List, "Inkjet printed surface cell light-emitting devices from a water-based polymer dispersion", Org. Electron. Physics, Mater. Appl. 9, 164 (2008). CrossRef
A.Stolarczyk et al. Polish patent application nr P.407784 RR10.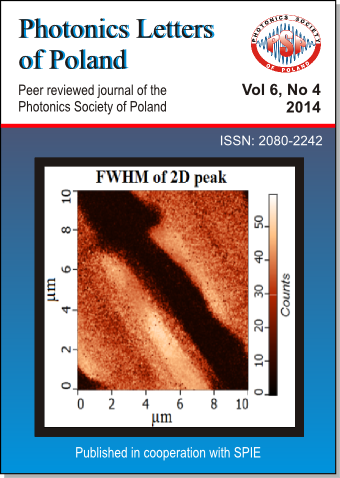 Downloads
How to Cite
[1]
E. Maciak, P. Sufa, and A. Stolarczyk, "A low temperature operated NO2 gas POF sensor based on conducting graft polymer", Photonics Lett. Pol., vol. 6, no. 4, pp. pp. 124–126, Dec. 2014.
License
Authors retain copyright and grant the journal right of first publication with the work simultaneously licensed under a Creative Commons Attribution License that allows others to share the work with an acknowledgement of the work's authorship and initial publication in this journal. Authors are able to enter into separate, additional contractual arrangements for the non-exclusive distribution of the journal's published version of the work (e.g., post it to an institutional repository or publish it in a book), with an acknowledgement of its initial publication in this journal. Authors are permitted and encouraged to post their work online (e.g., in institutional repositories or on their website) prior to and during the submission process, as it can lead to productive exchanges, as well as earlier and greater citation of published work (See The Effect of Open Access).