Design and analysis of DOE-based microinterferometer
Abstract
This paper describes the design and numerical study of a Twyman-Green microinterferometer based on Diffractive Optical Elements (DOEs). Its compact design allows to fabricate several interferometers in an array-like pattern on an optical wafer - with horizontal dimensions appropriately adapted to the tested structures. To prove the design concept of the proposed interferometer configuration a laboratory setup was realized. The first results of the interferometric measurements on an MEMS object are presented.

Full Text: PDF

References:
http://www.ict-smartiehs.eu [DirectLink]
M. Kujawinska et al., "Design, technology, and signal processing for DOE-based microinterferometer array applied in new generation M(O)EMS test equipment", Proc. SPIE 7791, 779103 (2010).[CrossRef]
T. Kozacki et al., "Reconstruction of refractive-index distribution in off-axis digital holography optical diffraction tomographic system", Opt. Exp. 17, 13758 (2006). [CrossRef]
B. Kim et al., "Scanning Grating Microinterferometer for MEMS Metrology", J. Manuf. Sci. Eng. 126, 807 (2004). [CrossRef]
R.C. Rumpf, PhD Thesis, College of Optics / CREOL&FPCE (2006).
M.G. Moharam et al., "Formulation for stable and efficient implementation of the rigorous coupled-wave analysis of binary gratings", J. Opt. Soc. Am. A 12, 1068 (1995). [CrossRef]
P. Lalanne, M. Morris, "Highly improved convergence of the coupled-wave method for TM polarization", J. Opt. Soc. Am. A 13, 779 (1996). [CrossRef]
V.A. Soifer, Methods for computer design of diffractive optical elements (New York, John Wiley & Sons 2002).
D. Dias et al., "High-frequency gratings for applications to DVD pickup systems", J. Opt. A 3(3), 164 (2001). [CrossRef]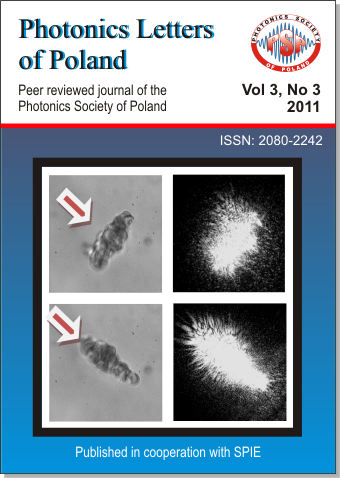 Downloads
How to Cite
[1]
M. Jozwik, K. Wielgo, and T. Kozacki, "Design and analysis of DOE-based microinterferometer", Photonics Lett. Pol., vol. 3, no. 3, pp. pp. 122–124, Sep. 2011.
License
Authors retain copyright and grant the journal right of first publication with the work simultaneously licensed under a Creative Commons Attribution License that allows others to share the work with an acknowledgement of the work's authorship and initial publication in this journal. Authors are able to enter into separate, additional contractual arrangements for the non-exclusive distribution of the journal's published version of the work (e.g., post it to an institutional repository or publish it in a book), with an acknowledgement of its initial publication in this journal. Authors are permitted and encouraged to post their work online (e.g., in institutional repositories or on their website) prior to and during the submission process, as it can lead to productive exchanges, as well as earlier and greater citation of published work (See The Effect of Open Access).