Analysis of microstructure eutectic Tb3Sc2Al3O12-TbScO3 photonic properties
Abstract
In this paper, a numerical analysis of self-organized microstructured dielectric eutectic photonic crystal properties is presented. In particular, we study the terbium-scandium-aluminum garnet - terbium-scandium perovskite structure Tb3Sc2Al3O12-TbScO3, grown by the micro-pulling down method. The self-organized dielectric microstructure is made of perovskite fibers embedded in a garnet phase matrix. In general, we analyzed the distribution of the electromagnetic field in the investigated periodic structures and the existence of a photonic band gap of such photonic crystals as a function of eutectic geometric parameters. Investigated structures do not reveal a wide photonic band gap, because of the low contrast of the refractive indices of individual phases.

Full Text: PDF

References: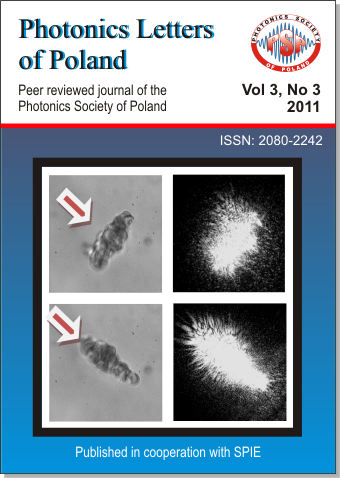 Downloads
How to Cite
Mossakowska-Wyszynska, A., Kaczkan, M., Koba, M., Pawlak, D., Kołodziejak, K., & Turczyński, S. (2011). Analysis of microstructure eutectic Tb3Sc2Al3O12-TbScO3 photonic properties. Photonics Letters of Poland, 3(3), pp. 116–118. https://doi.org/10.4302/photon. lett. pl.v3i3.243
License
Authors retain copyright and grant the journal right of first publication with the work simultaneously licensed under a Creative Commons Attribution License that allows others to share the work with an acknowledgement of the work's authorship and initial publication in this journal. Authors are able to enter into separate, additional contractual arrangements for the non-exclusive distribution of the journal's published version of the work (e.g., post it to an institutional repository or publish it in a book), with an acknowledgement of its initial publication in this journal. Authors are permitted and encouraged to post their work online (e.g., in institutional repositories or on their website) prior to and during the submission process, as it can lead to productive exchanges, as well as earlier and greater citation of published work (See The Effect of Open Access).