Superprism effect in low-contrast photonic crystals
Abstract
In this paper we study a superprism effect in a low contrast volumetric photonic crystal. The photonic crystals considered in the simulations have hexagonal lattices and a refractive index difference of 0.1 for double glass crystals and 0.6 for air-glass structures. The simulations show the existence of a superprism effect in both types of structures for an incident wavelength of 850 nm. In both cases various linear fill factors are studied in order to maximize the frequency range of a superprism effect. In a double glass structure, the maximum normalized frequency range is equal to 0.012, while for the air glass structures it reaches 0.108.

Full Text: PDF

References:
J.-M. Lourtioz, H. Benisty, V. Berger, J.-M. Gerard, D. Maystre, A. Tchelnokov, "Photonic Crystals: Towards Nanoscale Photonic Devices", Springer Berlin, 2005.
P. St. J. Russell, "Interference of integrated Floquet-Bloch waves", Phys. Rev. A 33, 3232?3242 (1986). [CrossRef]
R. Zengerle, "Light Propagation in Singly and Doubly Periodic Planar Waveguides ", J. Mod. Opt. 34, 1589 1589-1617 (1987). [CrossRef]
P. Yeh, "Electromagnetic propagation in birefringent layered media", J. Opt. Soc. Am. 69, 742-756 (1979). [CrossRef]
N. Malkova, D. A. Scrymgeour, V. Gopalan, "Numerical study of light-beam propagation and superprism effect inside two-dimensional photonic crystals", Phys. Rev. B 72, 45144 (2005). [CrossRef]
S. Foteinopoulou, C. M. Soukoulis, "Electromagnetic wave propagation in two-dimensional photonic crystals: A study of anomalous refractive effects", Phys. Rev. B 72, 165112 (2005). [CrossRef]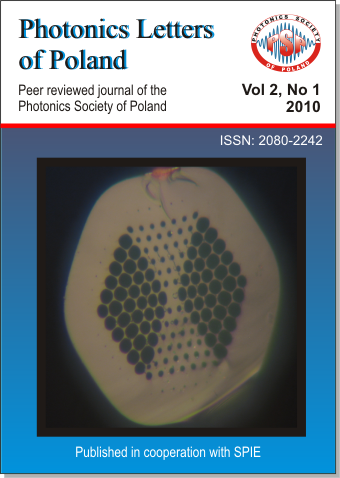 Downloads
How to Cite
[1]
A. Filipkowski, "Superprism effect in low-contrast photonic crystals", Photonics Lett. Pol., vol. 2, no. 1, pp. pp. 25–27, Mar. 2010.
License
Authors retain copyright and grant the journal right of first publication with the work simultaneously licensed under a Creative Commons Attribution License that allows others to share the work with an acknowledgement of the work's authorship and initial publication in this journal. Authors are able to enter into separate, additional contractual arrangements for the non-exclusive distribution of the journal's published version of the work (e.g., post it to an institutional repository or publish it in a book), with an acknowledgement of its initial publication in this journal. Authors are permitted and encouraged to post their work online (e.g., in institutional repositories or on their website) prior to and during the submission process, as it can lead to productive exchanges, as well as earlier and greater citation of published work (See The Effect of Open Access).