Utilization of the phase flicker of a LCoS Spatial Light Modulator for improved diffractive efficiency
Abstract
The paper presents the observation, measurement and utilization of flickering of phase modulation in time on a high-end Liquid Crystal on Silicon (LCOS) Spatial Light Modulator. The flicker due to binary driving electronics is a negative effect, but can be overcome by appropriate adjustment of phase modulation depth, which results in time-synchronization of peak efficiencies for selected wavelengths. In this work optimal parameters for three wavelengths of primary RGB colors are investigated. The effect is optimal performance of the SLM for full-color dynamic holography.

Full Text: PDF

References:
M. Makowski, M. Sypek, A. Kolodziejczyk, Opt. Expr. 16, 11618 (2008).
M. Makowski, M. Sypek, I. Ducin, A. Fajst, A. Siemion, J. Suszek, A. Kolodziejczyk, Opt. Expr. 17, 20840 (2009).[CrossRef]
M. Makowski, I. Ducin, M. Sypek, A. Siemion, A. Siemion, J. Suszek, A. Kolodziejczyk, Opt. Lett. 35, 1227 (2010).[CrossRef]
S. Osten, S. Krüger, A. Hermerschmidt, Proc. SPIE 6487, 64870X-1 (2007).[CrossRef]
A. Lizana, A. Marquez, I. Moreno, C. Iemmi, J. Campos, M.J. Yzuel, JoEOS:RP 3, 08012 (2008).[CrossRef]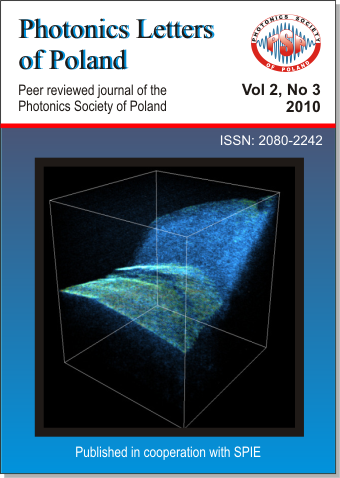 Downloads
How to Cite
[1]
K. Kakarenko, "Utilization of the phase flicker of a LCoS Spatial Light Modulator for improved diffractive efficiency", Photonics Lett. Pol., vol. 2, no. 3, pp. pp. 128–130, Oct. 2010.
License
Authors retain copyright and grant the journal right of first publication with the work simultaneously licensed under a Creative Commons Attribution License that allows others to share the work with an acknowledgement of the work's authorship and initial publication in this journal. Authors are able to enter into separate, additional contractual arrangements for the non-exclusive distribution of the journal's published version of the work (e.g., post it to an institutional repository or publish it in a book), with an acknowledgement of its initial publication in this journal. Authors are permitted and encouraged to post their work online (e.g., in institutional repositories or on their website) prior to and during the submission process, as it can lead to productive exchanges, as well as earlier and greater citation of published work (See The Effect of Open Access).