Performance evaluation of a few- and multimode fiber optic perimeter sensor with selective mode excitation
Abstract
We present a study of the performance of a simple fiber-optic perimeter snsor based on selective mode excitation in few- and multimode optical fibers. The electronic unit identifies an intrusion on the basis of a pre-defined threshold and number of detected pulses per unit time. The sensor may be controlled using the keypad, a PC or a FSK modem. The statistical properties of the responses are analyzed using Weibull distributions.

Full Text: PDF

References:
A. Yariv, "On transmission and recovery of three-dimensional image information in optical waveguides", J. Opt. Soc. Amer., 66, 301(1976) [CrossRef]
A. S. Wu, S. Yin and F.T.S. Yu, "Sensing with fiber specklegrams", Appl. Opt. 30, 4468 (1991).[CrossRef]
S. Yin, P. Purwosumarto and F.T.S.Yu, "Application of fiber specklegram sensor to fine angular alignment", Opt. Commun. 170, 15 (1999) [CrossRef]
A. F. T.S. Yu, K.Pan, C. Uang and P.B. Ruffin, "Fiber specklegram sensing by means of an adaptive joint transform correlator ", Opt. Eng. 32, 2884 (1993). [CrossRef]
F. T.S. Yu, K.Pan, D. Zhao and P.B. Ruffin, "Dynamic fiber specklegram sensing", Appl. Opt. 34, 622 (1995). [CrossRef]
K.Pan, C.-M.Uang, F.Cheng and F.T.S. Yu, "Multimode fiber sensing by using mean-absolute speckle-intensity variation", Appl. Opt. 33, 2095 (1994). [CrossRef]
A. Malki, R. Gafsi, L. Michel, M. Labarr?re and P. Lecoy, "Impact and vibration detection in composite materials by using intermodal interference in multimode optical fibers", Appl. Opt. 35, 5198 (1996). [CrossRef]
J. Park, J. of the Korean Phys. Soc. 50, 529 (2007). [DirectLink]
D. Anderson, Fiber SenSys White Paper
R.Arnaudov, W. Bock, R.Miletiev, Y. Angelov and T. Eftimov, IMTC 2007, Warsaw, Poland, paper IM-7352(2007).
T.Eftimov and T.Kortenski, "Mode Pattern Rottation Effect in Spirals of Multimode Optical Fibres", Bulg. J. Phys. 14, 456(1987). [DirectLink]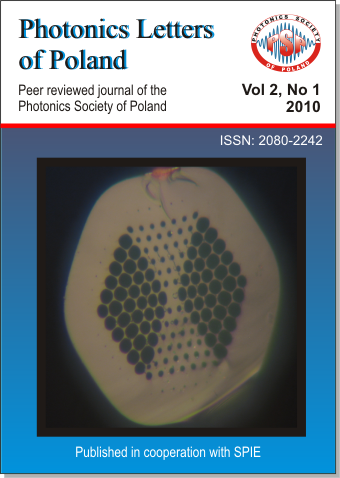 Downloads
How to Cite
[1]
R. Miletiev, R. Arnaudov, W. J. Bock, T. A. Eftimov, and X. Bao, "Performance evaluation of a few- and multimode fiber optic perimeter sensor with selective mode excitation", Photonics Lett. Pol., vol. 2, no. 1, pp. pp. 43–45, Mar. 2010.
License
Authors retain copyright and grant the journal right of first publication with the work simultaneously licensed under a Creative Commons Attribution License that allows others to share the work with an acknowledgement of the work's authorship and initial publication in this journal. Authors are able to enter into separate, additional contractual arrangements for the non-exclusive distribution of the journal's published version of the work (e.g., post it to an institutional repository or publish it in a book), with an acknowledgement of its initial publication in this journal. Authors are permitted and encouraged to post their work online (e.g., in institutional repositories or on their website) prior to and during the submission process, as it can lead to productive exchanges, as well as earlier and greater citation of published work (See The Effect of Open Access).