Focusing a Gaussian beam in nanostructured non-periodic GRIN microlenses
Abstract
Modeling the propagation of a Gaussian beam in a nanostructured gradient index microlens is reported. The nanostructured GRIN microlens is composed of subwavelength discrete dielectric rods. We compare the performance of nanostructured gradient index microlenses against conventional GRIN microlenses for Gaussian beam focusing. The 3D FDTD method is used for numerical analysis of optical systems.

Full Text: PDF

References:
W. J. Tomlinson, "Application of GRIN rod lenses in optical fiber communication systems," Appl. Opt. 19, 1127-1138 (1980). [CrossRef]
S. Sinzinger, and J. Jahns, Microoptics Wiley-VCH, Weinheim, 2003.
F. Hudelist, R. Buczynski, A. J. Waddie, and M. R. Taghizadeh, "Design and fabrication of nano-structured gradient index microlenses," Opt. Express 17, 3255-3263 (2009). [CrossRef]
F. Hudelist, J. M. Nowosielski, R. Buczynski, A. J. Waddie, and M. R. Taghizadeh, "Nanostructured elliptical gradient-index microlenses," Opt. Lett. 35, 130-132 (2010). [CrossRef]
C. Gomez-Reino, M. V. Perez, and C. Bao, Gradient-Index Optics: Fundamentals and Applications Springer, Berlin, 2002
A. Farjadpour, D. Roundy, A. Rodriguez, M. Ibanescu, P. Bermel, J. D. Joannopoulos, S. G. Johnson, and G. Burr, "Improving accuracy by subpixel smoothing in FDTD," Opt. Lett. 31 (20), 297 (2006). [CrossRef]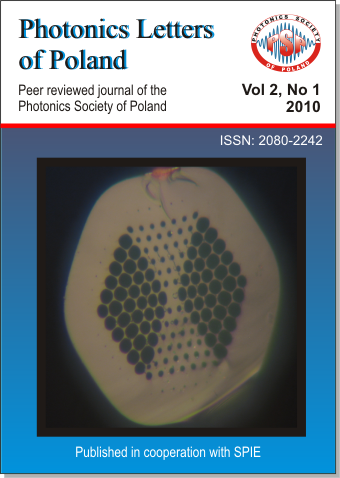 Downloads
How to Cite
Nowosielski, J. M., Buczynski, R., Hudelist, F., Waddie, A., Pysz, D., Stępień, R., Kujawa, I., & Taghizadeh, M. R. (2010). Focusing a Gaussian beam in nanostructured non-periodic GRIN microlenses. Photonics Letters of Poland, 2(1), pp. 34–36. https://doi.org/10.4302/photon. lett. pl.v2i1.101
License
Authors retain copyright and grant the journal right of first publication with the work simultaneously licensed under a Creative Commons Attribution License that allows others to share the work with an acknowledgement of the work's authorship and initial publication in this journal. Authors are able to enter into separate, additional contractual arrangements for the non-exclusive distribution of the journal's published version of the work (e.g., post it to an institutional repository or publish it in a book), with an acknowledgement of its initial publication in this journal. Authors are permitted and encouraged to post their work online (e.g., in institutional repositories or on their website) prior to and during the submission process, as it can lead to productive exchanges, as well as earlier and greater citation of published work (See The Effect of Open Access).