Optical properties of daylight curable resin doped with nanodiamond powder
Abstract
In this paper creating optical elements with the use of 3D printing technology was elaborated on. A special focus was put on the properties of nanodiamond and possibilities of applying it in 3D printing process in a mixture with the standard 3D printing resin. Several printouts have been completed, starting from the calibration printouts and ending with optical flats and both cylindrical and spherical lenses. The printouts have been tested for their abilities to transmit and absorb light in a wide spectrum of wavelengths.

Full Text: PDF

References
L. Ding, R. Wei, and H. Che, Development of a BIM-based automated construction system, Procedia Engineering 85, 123-131 (2014). CrossRef
L. Fang, T. Chen, R. Li, S. Liu, Application of embedded fiber Bragg grating (FBG) sensors in monitoring health to 3D printing structures, IEEE Sensors Journal, 16(17), 6604-6610 (2016). CrossRef
G. B. Kim, S. Lee, H. Kim, D. H. Yang, Y. H. Kim, Y. S. Kyung, et al., Three-dimensional printing: basic principles and applications in medicine and radiology, Korean Journal of Radiology, 17(2), 182-197 (2016). CrossRef
J. W. Stansbury, M. J. Idacavage, 3D printing with polymers: Challenges among expanding options and opportunities, Dental Materials, 32(1), 54-64 (2016). CrossRef
G. H. Wu, S. H. Hsu, Polymeric-based 3D printing for tissue engineering, Journal of Medical and Biological Engineering, 35(3), 285-292 (2015). CrossRef
https://www.thorlabs.com/newgrouppage9.cfm?objectgroup_id=6973&tabname=N-BK7 DirectLink
https://www.thorlabs.com/images/TabImages/UVFS_Transmission_780.gif DirectLink
U. Kalsoom, A. Peristyy, P. N. Nesterenko, B. Paull, A 3D printable diamond polymer composite: a novel material for fabrication of low cost thermally conducting devices, RSC Advances, 6(44), 38140-38147 (2016). CrossRef
K. M. El-Say, Nanodiamond as a drug delivery system: Applications and prospective, Journal of Applied Pharmaceutical Science, 01(06), 29-39 (2011). DirectLink
K. Królewski, MA thesis, 3D printing of optical elements from diamond powders, (2018).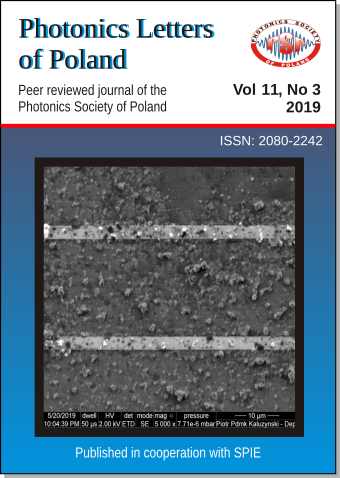 Downloads
How to Cite
[1]
K. Królewski, A. Wieloszyńska, A. M. Kamińska, and K. Kardacz, "Optical properties of daylight curable resin doped with nanodiamond powder", Photonics Lett. Pol., vol. 11, no. 3, pp. 84–86, Sep. 2019.
License
Authors retain copyright and grant the journal right of first publication with the work simultaneously licensed under a Creative Commons Attribution License that allows others to share the work with an acknowledgement of the work's authorship and initial publication in this journal. Authors are able to enter into separate, additional contractual arrangements for the non-exclusive distribution of the journal's published version of the work (e.g., post it to an institutional repository or publish it in a book), with an acknowledgement of its initial publication in this journal. Authors are permitted and encouraged to post their work online (e.g., in institutional repositories or on their website) prior to and during the submission process, as it can lead to productive exchanges, as well as earlier and greater citation of published work (See The Effect of Open Access).