Electro-optic guest-host system containing azobenzene chromophores in PMMA matrix
Abstract
A guest-host polymer system was formed from poly(methyl methacrylate) (PMMA) and the synthesized N-ethyl-N-(2-hydroxylethyl)-4-(2-cyano-4-nitrophenylazo)aniline azobenzene chromophore. Linear optical properties have been determined for thin polymer films prepared by a spin-coating method. For the film poled in a moderate electric field the value of electro-optic (E-O) coefficient was measured by a simple reflection technique proposed by Teng and Man.

Full Text: PDF

References:
H. Jiang, A.K. Kakkar, "Soluble High-Tg Polymers for Second-Order Nonlinear Optics from an Unusual Mix of Imide and Siloxane Linkages in the Backbone", Macromolecules 31, 4170 (1998)[CrossRef]
S. K. Yesodha, Ch. K. S. Pillai and N. Tsutsumi, "Stable polymeric materials for nonlinear optics: a review based on azobenzene systems", Prog. Polym. Sci. 29, 45 (2004).[CrossRef]
H.S. Nalwa, S. Miyata, Nonlinear Optics of Organic Molecules and Polymers (CRC Press. Inc., New York, 1997).
L. Nikolova, P. Markovaky, V. Dragostinova, N. Mateva, "Optically-controlled Photo-induced Birefringence in Photo-anisotropic Materials", Mod. Opt.35 (1988) 1789.[CrossRef]
T. Xu, G. Chen, C. Zhang, Z. Hao, X. Xu, J. Tian, "All-optical switching characteristics of ethyl red doped polymer film", Optical Materials 30, 1349 (2008).[CrossRef]
E. Schab-Balcerzak, M. Siwy, M. Kawalec, A. Sobolewska, A. Chamera, A. Miniewicz, "Synthesis, Characterization, and Study of Photoinduced Optical Anisotropy in Polyimides Containing Side Azobenzene Units", J. Phys. Chem. A 113, 8765 (2009).[CrossRef]
C.C. Teng and H.T. Man, "Simple reflection technique for measuring the electro-optic coefficient of poled polymers ", Appl. Phys. Lett. 56, 1734 (1990).[CrossRef]
H. Rau. In Photochemistry and Photophysics, F.J. Rabek Ed., CRC, Boca Raton, FL, 1990, Vol. II, Chapter 4, pp 119-141.
J. Fellman, T. Westerlund, "Determination of the complex indices of refraction of glasses using Kramers-Krönig transformation", J. Non-Cryst. Solids 146, 165 (1992).[CrossRef]
B. Jarząbek, J. Weszka, M. Domański, J. Jurusik, J. Cisowski, "Optical studies of aromatic polyazomethine thin films", J. Non-Cryst. Solids 354, 856 (2008).[CrossRef]
Y.V. Pereverzev, K.N. Gunnerson, O.V. Prezhdo, P.A. Sullivan, Y. Liao, B.C. Olbricht, A.J. Akelaitis, A.K.-Y. Jen, L.R. Dalton, "Guest−Host Cooperativity in Organic Materials Greatly Enhances the Nonlinear Optical Response", J. Phys. Chem. C 112, 4355 (2008).[CrossRef]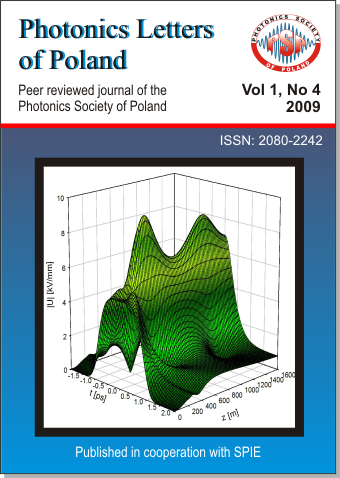 Downloads
How to Cite
[1]
A. Kozanecka-Szmigiel, K. Świtkowski, B. Pura, E. Schab-Balcerzak, and M. Siwy, "Electro-optic guest-host system containing azobenzene chromophores in PMMA matrix", Photonics Lett. Pol., vol. 1, no. 4, pp. pp. 181–183, Dec. 2009.
License
Authors retain copyright and grant the journal right of first publication with the work simultaneously licensed under a Creative Commons Attribution License that allows others to share the work with an acknowledgement of the work's authorship and initial publication in this journal. Authors are able to enter into separate, additional contractual arrangements for the non-exclusive distribution of the journal's published version of the work (e.g., post it to an institutional repository or publish it in a book), with an acknowledgement of its initial publication in this journal. Authors are permitted and encouraged to post their work online (e.g., in institutional repositories or on their website) prior to and during the submission process, as it can lead to productive exchanges, as well as earlier and greater citation of published work (See The Effect of Open Access).