Numerical simulation of beam propagation in a layer filled with chiral nematic liquid crystals
Abstract
Simulation of light beam propagation in chiral nematic liquid crystals, which are anisotropic media, requires the use of full-vector methods. One of them is FV-BPM (Full-Vector Beam Propagation Method). In the present work an application of FV-BPM to simulate light propagation, in the linear case, is shown. Calculations are carried out for various values of incident beam full width at half maximum, position of the launched beam and the pitch of the cholesteric.

Full Text: PDF

References:
G. D. Ziogos, E. E. Kriezis, "Modeling light propagation in liquid crystal devices with a 3-D full-vector finite-element beam propagation method", Opt. Quant. Electron 40, 10 (2008)[CrossRef]
I-C Khoo Liquid crystals John Wiley & Sons, Inc (2007)
U. A. Laudyn, M. Kwasny, M. A. Karpierz, "Nematicons in chiral nematic liquid crtystals", Appl. Phys. Lett. 94, 091110 (2009)[CrossRef]
U. A. Laudyn, M. Kwaśny, K. Jaworowicz, K. A. Rutkowska, M. A. Karpierz, G. Assanto, "Nematicons in twisted liquid crystals", Phot. Lett. Poland, 1, 7-9 (2009)
G. Assanto, M. Karpierz, "Nematicons: self-localized beams in nematic liquid crystals", Liquid Crystals (2009)
G. Assanto, M. Peccianti, C. Conti, "Optical spatial solitons in nematic liquid crystals", Opt. Photon. News 14, 44, (2003)[CrossRef]
J. P Berenger, "A perfectly matched layer for the absorption of electromagnetic waves", J. Comp. Phys. 114, (1994)[CrossRef] D. S Katz, E.T. Thiele, A. "Taflove Validation and extension to three dimensions of the Berenger PML absorbing boundary condition for FD-TD meshes", IEEE Microwave Guided Wave Lett. 4, (1994)
J. Baran, Z. Raszewski, R. Dąbrowski, J. Kędzierski and J. Rutkowska, "Some Physical Properties of Mesogenic 4-(trans-4'-n-Alkylcyclohexyl) Isothiocyanatobenzenes ", Mol. Cyst. Liq. Cyst. 123 (1985)[CrossRef]
R. Dabrowski, J. Dziaduszek and T. Szczuciński, "Mesomorphic Characteristics of Some New Homologous Series with the Isothiocyanato Terminal Group", Mol. Cyst. Liq. Cyst. 124, 241 (1985) [CrossRef]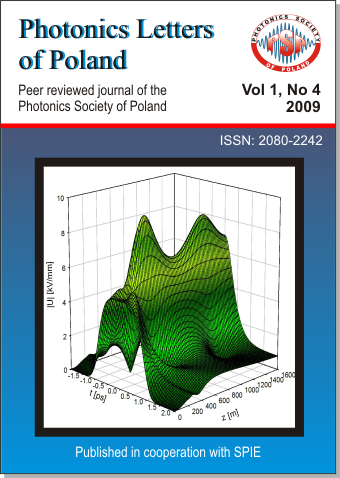 Downloads
How to Cite
[1]
F. A. Sala and M. A. Karpierz, "Numerical simulation of beam propagation in a layer filled with chiral nematic liquid crystals", Photonics Lett. Pol., vol. 1, no. 4, pp. pp. 163–165, Dec. 2009.
License
Authors retain copyright and grant the journal right of first publication with the work simultaneously licensed under a Creative Commons Attribution License that allows others to share the work with an acknowledgement of the work's authorship and initial publication in this journal. Authors are able to enter into separate, additional contractual arrangements for the non-exclusive distribution of the journal's published version of the work (e.g., post it to an institutional repository or publish it in a book), with an acknowledgement of its initial publication in this journal. Authors are permitted and encouraged to post their work online (e.g., in institutional repositories or on their website) prior to and during the submission process, as it can lead to productive exchanges, as well as earlier and greater citation of published work (See The Effect of Open Access).