Real-condition optical reorientation in liquid crystalline photonic cell
Abstract
In the present work the mechanism of optical orientational nonlinearity in liquid-crystalline nematic structure is examined. The results obtained in the frame of the classical Oseen-Frank-Leslie model of the effect are considered in real conditions. The paper addresses physical aspects of the mechanism, which are really met but not taken into account in the theory. Some selected aspects are discussed, which are essential in expected applications.

Full Text: PDF

References:
S.D.Durbin, S.M.Arakelian, Y.R.Shen, "Optical-Field-Induced Birefringence and Freederiks Transition in a Nematic Liquid Crystals", Phys.Rev.Lett.,47,19 (1981) [CrossRef]
Francesco Simoni, "Nonlinear optical properties of liquid crystals and polymer dispersed liquid crystals", World Scientific (1997)
Iam-Choon Khoo, Shin Tson Wu, "Optics and nonlinear optics of liquid crystals", World Scientific (1993)
M. Sierakowski, M.Teterycz, "Possible limitations of the classical model of orientational optical nonlinearity in nematics", CEJP, 6, 3, (2008)
M.Sierakowski, "Nonlinear liquid-crystalline optical cells", Opt. Appl., XXIV, 4, (1994);
M. Sierakowski, Ł.Waga, "Dye-enhanced nonlinearity threshold measurements in liquid crystals", Optoelectronic Rev., 13, 2, (2005)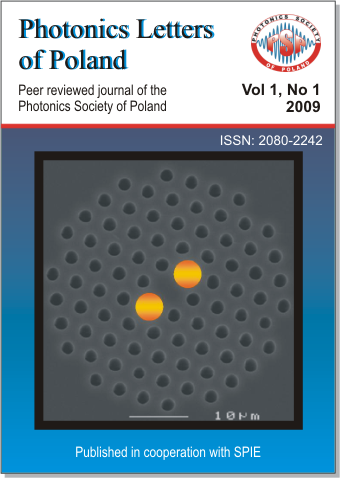 Downloads
How to Cite
[1]
M. W. Sierakowski, "Real-condition optical reorientation in liquid crystalline photonic cell", Photonics Lett. Pol., vol. 1, no. 1, pp. pp. 10–12, Mar. 2009.
License
Authors retain copyright and grant the journal right of first publication with the work simultaneously licensed under a Creative Commons Attribution License that allows others to share the work with an acknowledgement of the work's authorship and initial publication in this journal. Authors are able to enter into separate, additional contractual arrangements for the non-exclusive distribution of the journal's published version of the work (e.g., post it to an institutional repository or publish it in a book), with an acknowledgement of its initial publication in this journal. Authors are permitted and encouraged to post their work online (e.g., in institutional repositories or on their website) prior to and during the submission process, as it can lead to productive exchanges, as well as earlier and greater citation of published work (See The Effect of Open Access).